Virtual CSI
is neither situated in one of the original three cities nor in any other existing US city, because this way every player has the same chances in getting to know the place. To find your way around in Virtual City, we have a map in this post. You can click on it for enlargement.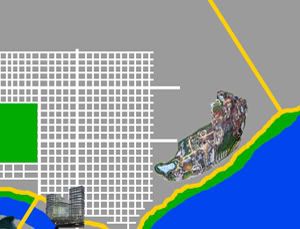 You may also click
here
for a view of the city center.
Virtual City is a typical US city with uptown, downtown, suburbs and city center. It is located somewhere in the US, which literally means it could be anywhere. Therefor no state is given, and as you might see from the highways,
this
everywhere is nowhere at all. There is no role model for this place, just the typical everyday big city life.
Notable locations
Virtual Gardens and the Virtual Stadium:
Virtual Gardens is one of the two major parks of Virtual City [VC]. People come here for recreation of any sorts. The Virtual Stadium has fields for football, soccer and baseball.
Virtual City Central Station:
VC Central is a very modern train station with 16 platforms. Naturally, as with most large train stations, minor crimes like dealing drugs and pickpocketing are a daily nuisance.
Virtual Ride Park:
The Virtual Ride Park is a quite big amusement park. It's not Disney Land, but with several roller coasters and other rides, an IMAX theater and some restaurants it is good enough for the people of VC, who frequent the park a lot.
Virtual Park:
Virtual Park is the other big park in VC. Here you will not only find the
Virtual Arena
with basketball games and concerts, but also a block of very expensive high class apartments in the
Virtual Park Estates
, where the top managers and celebrities of VC live.
Virtual Trade Center:
Global economics, city politics, money and business, you will find all of that right here, on the banks of Virtual River. The pulsing heart of VC's finance and business world by day, the Virtual Trade Center becomes a dark and lonely place at night. When the bars and restaurants close at around 1 a.m., the streets in the shadows of the skyscrapers are no longer save.
Hotel Virtual:
Being a first class hotel and casino, it serves as the dwelling point for visitors from all over the world, be it a diplomat, a corporate exec or a simple tourist.
VCPD Headquarters:
The headquarters of the VC Police Department not only holds the offices of divisions like homicide, fraud or vice. It also contains the complete VC CSI with all the labs, libraries and pathology.
Virtual Harbour and Virtual Yacht Pier:
Cargo and cruise ships land and leave at the Virtual Harbour, while yachts, motorboats and sailing vessels come and go at the Virtual Yacht Pier. The pier lies a little bit south of the harbor in the VC suburb
Diamond Cove
, where you will find most of the super rich residents of VC.
Virtual CIty is thought to be a growing city. With every new case, new locations will be added to the map, as hospitals, bars, restaurants and other places come into existence.